Wednesday Oct 10 - "Remember, Red, hope is a good thing."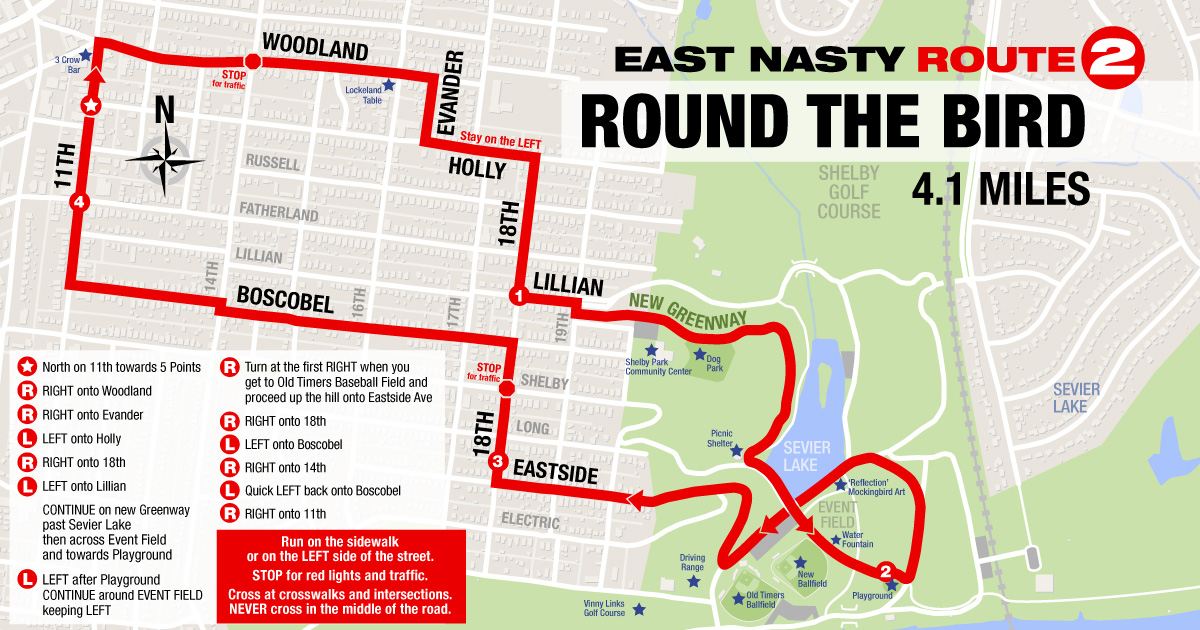 Route #2
This week we continue our 12 week cycle with Route #2: 'Round the Bird. We meet at the corner of 11th & Holly at 6pm. We run every Wednesday – rain or shine, hot or cold. You can READ HERE for more details on how our Wednesday night runs work. If you are a run/walker and/or want to get a head start, meet at 5:45pm and join our Lasty Nasty Group.
This run takes us into Shelby Park and is a figure-8 route that crosses over itself. Be sure to high five each other at the intersection! Shelby Park is our local treasure and it can get pretty busy with lots of groups and events making use of it, including the Farmer's Market. Please be extra courteous and share the roads and greenway with other runners, walkers, cyclists, and park goers. It is important for us to be good neighbors so we can continue to use the park.
Cup Cleaning Raffle
Sign up for cup cleaning volunteer raffle slots for this quarter! We need need volunteers! You can win $100 gift card from NRC!
Hope and Possibility Race
Amy Harris, Executive Director for Achilles Nashville will be sharing about the upcoming Hope & Possibility 5 miler on Saturday, 10/20. The Hope and Possibility® is the signature race of Achilles International, an international 501(c)3 that brings together able-bodied runners with athletes with disabilities, welcoming all to the wonderful world of athletics. There's a 5 mile and 1 mile race. The race is coming up on October 20th! East Nasties Can get $5 off registration by using the code EastNasty18. Register at: https://goodtiming.enmotive.com/events/register/2018-achilles-nashville-hope-and-possibility-5-miler-and-1-miler
Walk Bike Nashville Open House / Keg Night
Walk Bike Nashville, our neighbors on Woodland, would like to get to know us better, so they've invited us to an open house just for East Nasty. After the run on October 17th, Come by 934 Woodland for a cold beer or two and to hear about upcoming sidewalk and bike lane initiatives – specifically, proposed changes on Woodland that will affect us all. Walk Bike Nashville is a non-profit organization working to build a more walkable (and runnable!), bikeable, and livable Nashville. If you've been to Tour de Nash, Open Streets Nashville, Golden Pheasant Triathlon, or have used new sidewalks or bike lanes, then you've benefited from the work done by Walk Bike Nashville.
Spring Half and Full Marathon Training
Prices are already going up for Spring races, so it's not too early to think about committing. East Nasty Half and Full Marathon Training will begin the first week of January. Yes, FULL marathon training is back this year! Look for registration information soon for both distances. If you're planning to run the Rock'n'Roll Nashville race on April 27th, be sure and use the East Nasty discount code ENASTY19 for $10 off all distances.